BLOOMINGTON – The East Central Illinois Area Agency on Aging (ECIAAA) announces the recipient of the Dr. Arthur H. Larsen Leadership Award for 2021.
The Leadership Award is presented each year to an individual who has demonstrated outstanding leadership in advancing programs, services, and opportunities for older persons in East Central Illinois. The Leadership Award is named in honor of Dr. Arthur H. Larsen who served as the first Chairperson of the ECIAAA Corporate Board in 1974.
The 2021 Dr. Arthur H. Larsen Leadership Award recipient is Mr. Rick Lewis, McLean County Representative of the ECIAAA Advisory Council and Director of Operations of the ARC in Normal.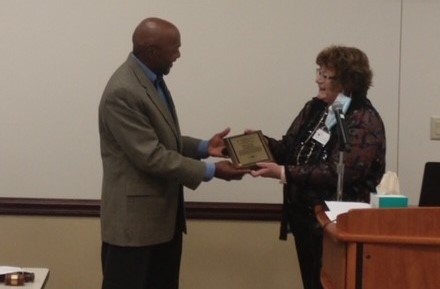 ECIAAA is proud to honor Mr. Lewis for his service to the McLean County Aging Network illustrated by his leadership as the Director of Operations at the Activity & Recreation Center (ARC) in Normal. Mr. Lewis improved the lives of thousands of seniors during the pandemic by organizing COVID-19 vaccine clinics, using creative programming to reduce social isolation, and disseminating technology to help older adults to stay connected.
During 2021, under Mr. Lewis' leadership, the ARC Member Services team conducted 5,800 wellness check phone calls and 3,800 birthday calls to ARC members to keep them connected with the Center. Zoom programs were implemented to encourage physical activity, cognitive skills, and socializing. Mr. Lewis and his team hosted Red Cross Blood Drives monthly resulting in 311 lifesaving units donated by the ARC. When the COVID-19 vaccines became available in January of 2021, Mr. Lewis reached out to the McLean County Health Department and Carle BroMenn Hospital to offer free use of the ARC, resulting in the administration of over 5,800 doses of the COVID-19 vaccine to older adults in the McLean County area.
ECIAAA is a non-profit corporation founded in 1972 and designated by the Illinois Department on Aging to serve older persons and family caregivers in a 16-county area. ECIAAA is funded with grants of federal Older Americans Act funds and Illinois General Revenue Funds through the Illinois Department on Aging. Serving 16 counties in East Central Illinois, ECIAAA administers an annual budget of $10.8 M. Together with 22 community programs on Aging, ECIAAA provides a wide range of services for over 23,400 older adults and 1,100 caregivers annually.
For more information, please contact Susan C. Real, Executive Director, at (309) 829-2065 ext. 1218 or email at: This email address is being protected from spambots. You need JavaScript enabled to view it..