Services
Find a variety of information to assist you or a loved one aging in East Central Illinois. Feel free to contact East Central Illinois Area Agency on Aging at (309)-829-2065 with any additional questions, and for referalls to service providers.
East Central Illinois Serves Provider Service Area 5
In most cases, the fastest way to get assistance is to contact the Coordinated Point of Entry/ Senior Information Services provider for your county. CPoE/SIS staff provide information to help older adults stay in the least restrictive environment possible. SIS staff direct callers to agencies that can provide the services they need. They also administer the Benefit Access program which includes the License Plate Discount for Seniors, and the Senior Health Insurance Program which provides health insurance counseling services for Medicare beneficiaries and their caregivers.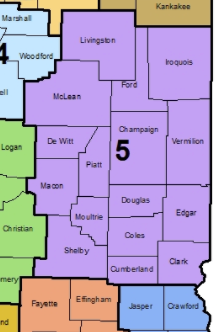 If you do not live in Provider Service Area 5- the purple counties on the map- you can find your Area Agency on Aging with the Illinois Department on Aging Service Locator
You can also contact the Senior Helpline at 1-800-252-8966
Illinois MCO Home Delivered Meal Information
Automated Medicaid Dispenser (AMD) Service