At Senior Centers, Meals Become Gateways to Activities, Services, and Connections
March 15, 2019
HHS Deputy Secretary Eric Hargan and ACL Administrator Lance Robertson arrived at the Walter Reed Community and Senior Center in Arlington, VA just before lunch time, and the center was full of activity.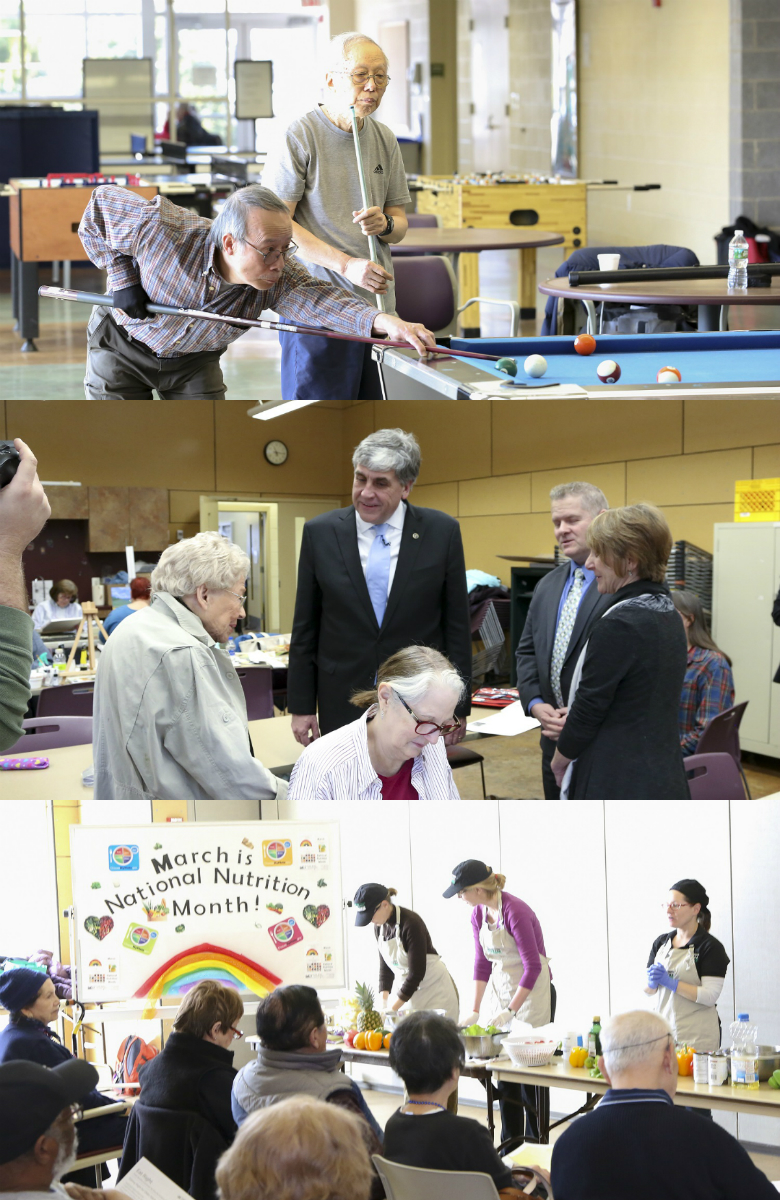 "Let's do this," a man said as he prepared to take a shot at the pool table. In the gym, the 55-and-over basketball game was gearing up. Down the hall, the intermediate line dancing class practiced a dance choreographed to Alec Benjamin's "Let Me Down Slowly." Next door, Blanche Kirchner led a painting class, as she has for 40 years. At 97 years old, Kirchner is Arlington County's longest-serving employee.
Hargan and Robertson were visiting the center to help kick off National Nutrition Month®. The center is one of thousands of senior centers, churches, schools, and other community spaces serving meals through the congregate meals program established by the Older Americans Act. Together, these programs serve more than 75 million meals a year to over 1.5 million Americans.
As many as half of older Americans are malnourished or at risk of being malnourished, and nearly 5 million Americans lack consistent access to enough food for a healthy life. With food insecurity and malnutrition associated with a variety of negative health outcomes, including more frequent and longer hospitalizations, the congregate meals program plays an important role in helping older adults remain healthy and independent.
In fact, 58% of participants say that the meal they receive through the program provides at least half of their total food for the day. A 2017 evaluation found that participants in the program have better diets and are less likely to face food insecurity compared to similarly-situated older adults not participating in the program.
While nutrition is the most obvious benefit of the meals programs, the older adults at the Walter Reed Center would be the first to tell you they are getting much more than lunch.
"When I'm here, I talk with everybody," said Lem Lem Ekoubegize. "I love it. I don't want to miss it."
She is not the only one. 80% of congregate meal participants surveyedby the National Association of Nutrition and Aging Services Programs said they had more friends after joining the program.
"A big problem that we see is that older Americans often become socially isolated from each other," Hargan said while visiting the Walter Reed Center. "So a center like this, where people come for the food but they stay for the company, is really important."
Like malnutrition, loneliness and social isolation can have grave consequences for older adults' health. For example, social isolation is associated with higher blood pressure and earlier onset of dementia. Older adults who are socially isolated also face a greater risk of being targeted for abuse, neglect, or exploitation.
The meal programs also often serve as a gateway to other important services and activities. More than two-thirds of congregate meal providers also offer other activities for older adults, with more than half offering at least 25 hours of activities a week. Seniors who drop by for meals often stay for these activities and have the opportunity to learn about services and programs they otherwise may not know about, such as heating assistance or prescription drug assistance programs.
The combination of nutrition, socialization, and connection to other resources and activities may help explain why participating in a congregate meal program leads to better health and a greater likelihood of staying in the community.
The 2017 evaluation of the program found that older adults participating in congregate meal programs are less likely to be admitted to a hospital or nursing home. The gap was particularly stark among lower income older adults. For example, 4.5% of lower income older adults participating in congregate meal programs had been admitted to a hospital after an ER visit in the nine month before they were interviewed, compared to nearly 16% of those not participating in the program.
Ekoubegize participates in Tai Chi and monthly health and wellness sessions led by doctors, nurses, and nutritionists. Recently, her primary care physician told her she was in good health and asked what she was doing to stay healthy.
"I'm listening to the (people at the Walter Reed Center) who come for my health," she recalled telling her doctor. "Whatever they tell me, I do it."
These health improvements can result in a better quality of life for seniors. They also save money for programs such as Medicare and Medicaid.
"(Seniors) want to be able to be in their homes but they also want the opportunity to be able to socialize, to meet other people, to do these activities, and also to have a meal," Hargan says. "It's a great thing, and it does help with our stewardship of taxpayer dollars as well … It's really a win-win."
"We know that the lonely and sedentary lifestyle is harmful," said Cheng Ping Feng, who participates in the Walter Reed Center's congregate meals program. She says the meals and other activities at the center allow older adults "to choose the active way."
https://acl.gov/news-and-events/acl-blog/more-just-meal