Illinois Aging Network Alert


Illinois Aging Network Alert
A report of the impact of the state budget crisis on Illinois Seniors and Community Programs on Aging, from I4A - Illinois Association of Area Agencies on Aging (prepared by the East Central Illinois Area Agency on Aging, Inc.)
Contact: Jon Lavin 708-383-0258 (Vice-Chair), Tracy Barczewski 618-532-1853 (I4A President)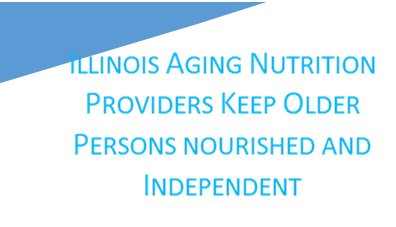 The East Central Illinois Area Agency on Aging asked their home delivered meal clientele to tell them what the service means to them.
Illinois General Revenue Funds (GRF) for Home Delivered Meals constitutes an estimated 67% of what is needed to respond to the escalated demand for home delivered meals. In late January, the Comptroller released 1/9 of the budgeted state funds for Meals in State Fiscal Year 2018.
What home delivered meal clients in Illinois value in the service
During FY 2017, of the 3,300 East Central Illinois home delivered meal participants who were surveyed reported the following startling statistics (based on a 10% survey response sample):
55% of nutrition meal participants indicated the meal provided is their main source of food.

66% of home-delivered meal recipients think their health has improved and indicated they feel better.

17% do not always have enough money or financial assistance to buy food.

13% in the past have had to choose between buying food and paying their medical bills and another 12% have had to choose between buying food and paying their utility bills.

Nearly 10% indicated they had to skip meals because they had no food or money.
Illinois home delivered meal participants are our most vulnerable population. Without reliable, consistent and current funding, the home delivered meals program stops, and home delivered meal participants face the risk of nursing home admission. If we calculate a conservative estimate of 25% of home delivered meal participants facing nursing home admission only in East Central Illinois, the cost of nursing home care to the clients, the families, and Illinois tax payers would add up to over $56 million. (Based on the Illinois median cost of nursing home care at $187/semi-private room.)
Plus - An Added Threat at the Federal Level!
Area Agencies on Aging also are facing the continued threat of a shutdown of the federal government! This will stop the federal funds we receive that are helping us pay the costs of the all the services we and the community agencies provide for older adults and their caregivers. Many of Illinois community based programs will face difficulties staying open!
Our Message! Thank you for supporting meals. Please assure that Illinois has the cash to keep the program going!
Please contact Susan Real, Executive Director of the East Central Illinois Area Agency on Aging in Peoria for information on the programs and survey reported here:
Distributed for I4A by