Pritzker after Senate adjourns: 'Illinois is back'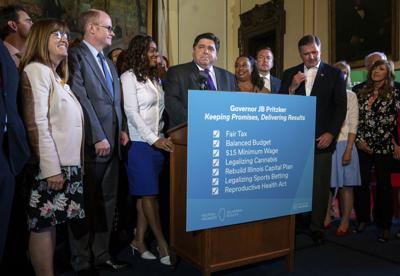 Illinois Governor J.B. Pritzker holds a press conference, surrounded by both Republicans and Democrats from the legislature, touting the accomplishments of the spring session.
""Today, the people of Illinois can be proud that we are putting state government back on the side of working families," Pritzker said at the news conference.

"

They can be proud that we are restoring fiscal responsibility after many years of crisis and deficits.

"
"

Make no mistake. We still have a lot of work ahead," he said. "Our budget and pension challenges unfolded over many years, and they won't go away overnight. We have more big things to do: to bring more efficiencies to state government, to grow our economy at a faster rate, to create jobs, to invest in our future.""
Check out news article here.