Health Affairs Blog: Addressing Social Determinants: Scaling Up Partnerships with Community-Based Organization Networks
ACL Administrator Lance Robertson and The SCAN Foundation President and CEO Bruce Chernoff published a blog on the Health Affairs website about health care organizations partnering with community-based social services networks (such as aging and disability organizations) to address social determinants of health.
Read the blog here:
Health Affairs (February 24)
Addressing Social Determinants: Scaling Up Partnerships with Community-Based Organization Networks
By Lance Robertson and Bruce Chernoff
Reflections from the Fall 2019 EJCC Meeting: Addressing Elder Abuse Wherever it Happens
December 6, 2019
On Tuesday, I had the privilege of chairing the fall 2019 meeting of the Elder Justice Coordinating Council. The meeting featured an impressive panel of experts offering insights from the field, and the release of ACL's National Adult Maltreatment Reporting System (NAMRS) data report for 2018. Leaders from across the federal government also shared updates on their departments' efforts to combat elder abuse, neglect, and exploitation.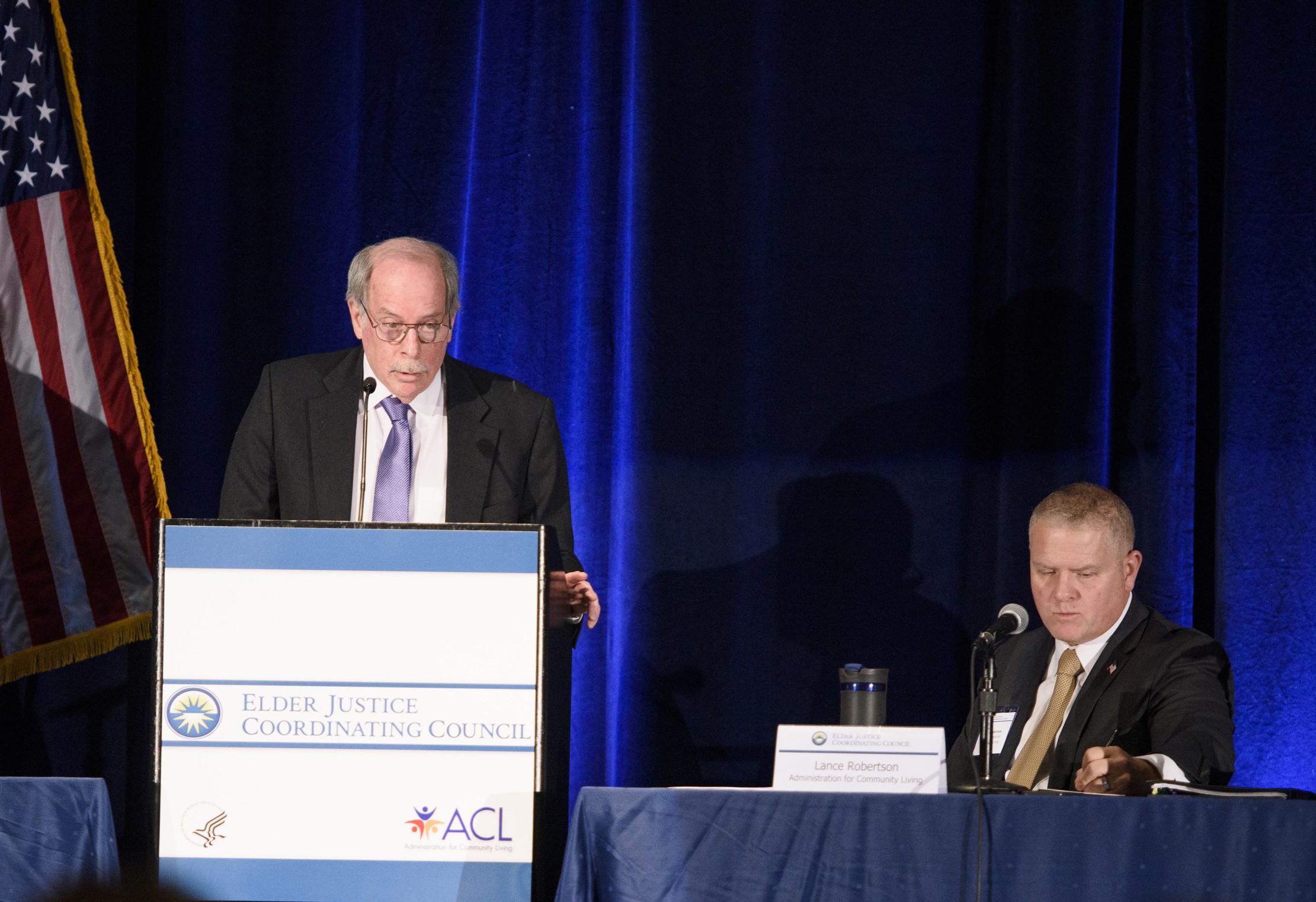 I want to share four key themes that stood out throughout the presentations and discussions. A central focus was the need to address abuse across all residential settings, from communities–where most elders reside–to congregate residential long-term care settings, like nursing homes and assisted living. The importance of data, the criticality of partnerships, and the need to engage the public were reinforced, as well.
Addressing Abuse in All Settings
Our meeting opened with a panel on elder abuse, neglect, and exploitation across residential settings. Expert panelists described unique dynamics and challenges of addressing abuse in each setting and shared recommendations for the Council's consideration.
Lori Smetanka, J.D., the Executive Director of the National Consumer Voice for Quality Long-Term Care, shared heartbreaking stories of abuse in long-term care facilities. She noted that this abuse can take many forms and that the perpetrators could be either staff or other residents. She also expressed concern that older adults experiencing abuse in facilities often lack access to the victim services available to people living in the community.
"As a society, it is incumbent upon us to intensify our efforts to combat elder abuse and neglect at all levels and in all settings, as well as support and seek justice for those who are victimized," Smetanka concluded.

Dr. Pamela B. Teaster, director of the Virginia Tech Center for Gerontology, reinforced the need for evidence-based approaches.
"We must support people whose decision-making is compromised so that they can exercise the greatest autonomy possible and enjoy a life that is as full and healthy as possible," Dr. Teaster told the audience. "And we must do this morally and ethically, and grounded in a foundation established by the best science and thinking possible."
Elder Justice Coalition National Coordinator Robert Blancato noted that although recent high profile cases of abuse in nursing homes have captured media focus, the vast majority of abuse occurs in the community, because that is where most older adults live.
"The average victim of elder abuse is an older woman living alone between the ages of 75 and 80," Blancato noted. Addressing isolation and developing strong supports is critical to addressing elder abuse in the community.
Data
The importance of data was a constant theme throughout the meeting. As Elder Justice Coalition National Coordinator Robert Blancato put it, "you can't stop what you don't know."
That's why ACL worked with Adult Protective Services (APS) systems across the country to establish the first national system for collecting data on the abuse, neglect, and exploitation of older adults and adults with disabilities investigated and validated by APS programs. We are now working with federal partners on an elder abuse predictive analytics initiative, which will use advanced technology to find patterns in data from NAMRS and other data sets that can inform future elder justice work.
The 2018 NAMRS report represents the third year of NAMRS reporting. One thing is clear – abuse is a growing problem. Between 2016 and 2018, APS reported a 15% increase in investigations, and the number of substantiated cases increased by nearly 6% (across the 44 states who reported these data for each of the three years). This underscores the need for robust programs to combat abuse, neglect, and exploitation as the population of older adults and adults with disabilities continue to grow.
Although participation in NAMRS is voluntary, all 56 states and territories have contributed data, and each year, they are increasing their capacity to report more, and higher quality, information. This level of participation is a testament to the dedication of APS programs to informing critical elder justice efforts.
Partnerships
The meeting also drove home the importance of partnerships of all types.
Our panelists highlighted the need for a coordinated, multidisciplinary approach as critical to combating elder abuse. Smetanka pointed to Georgia as one example. A partnership between Georgia's long-term care ombudsman, adult protective services, state and local law enforcement and prosecutors, and other partners is working to stop benefits trafficking of adults living in board and care homes. Blancato highlighted the opportunity to build partnerships that bring emergency response professionals to the elder justice table.
EJCC members also talked about partnerships in their work. For example, the Social Security Administration is working with phone companies to block fraudulent calls that are "masked" so they appear to be coming from legitimate Social Security Administration numbers and the United States Postal Inspection Service is working with Jamaican authorities to stop lottery scams.
Public Engagement
Finally, the discussion highlighted ongoing engagement with the public.
One memorable story came from Deborah Cox Roush of the Corporation for National and Community Service, who shared how a volunteer Senior Corp theater troupe used performances to start deeper conversations about elder abuse. Similarly, the Consumer Financial Protection Bureau has been expanding their popular collection of placemats with information about common scams.
Smetanka pointed to the success of efforts to raise awareness around child abuse and domestic violence as models in expanding public awareness around elder justice. This is an issue ACL has been actively working on for a number of years, and our National Center on Elder Abuse, in partnership with the FrameWorks Institute, has made strides with the Reframing Elder Abuse project.
Successful public engagement also requires a lot of listening. The EJCC declared 2019 a "year of listening" and has held 10 listening sessions across the country to collect input that will shape our ongoing work. (We also are collecting public comments online until the end of the year.) We are incredibly grateful for the valuable insights and wisdom that so many people across the country have shared.
In conclusion, it is fitting that the EJCC met just a few days after Thanksgiving, when we celebrate the intergenerational bonds of family and friendship. These bonds are the reason that each of us has a responsibility to act when an elder in our community is deprived of their inherent dignity and rights. I am proud to work alongside champions like our expert panelists and all of the partners who participated in this EJCC meeting, and I know we will continue to make progress.
https://acl.gov/news-and-events/acl-blog/reflections-fall-2019-ejcc-meeting-addressing-elder-abuse-wherever-it
National Family Caregivers Month: Learning More about Caregiver Needs
November 29, 2019
At this time of year, we stop to give thanks and spend time with our friends and loved ones to reflect on our many blessings. We spend time renewing the ties that connect families and sharing in the joys of the season. Because November is also National Family Caregivers Month, this is a time of year when we pause to think about the people whose support makes it possible for their loved ones to live independently in their homes and communities, as well as the increasing number of grandparents and other older relatives who take over raising children when their parents cannot. Without them, we could not effectively support community living for older adults and people with disabilities, and millions more children would enter the already overburdened foster care system.
Being here at ACL has given me the opportunity to meet some truly amazing individuals, including many family caregivers, grandparents, and older relatives who provide support for their loved ones. I have also met many talented and dedicated professionals whose mission is all about supporting family caregivers, grandparents, and older relatives. While nearly every program ACL administers, along with many others across the federal government, supports these folks in any variety of ways, I know we have the opportunity to do more on behalf of these incredible people.
Last year, Congress passed two important pieces of legislation that hold tremendous potential to strengthen how we support and sustain family caregivers, and grandparents and older relative caregivers. The Recognize, Assist, Include, Support, and Engage (RAISE) Family Caregivers Act will establish a Family Caregiving Strategy to better support families. The Supporting Grandparents Raising Grandchildren Act focuses national attention on better understanding the complex needs of grandparents and older relative caregivers. It also will help to make information about promising practices and programs more available to them.
Earlier this year, the Family Caregiving Advisory Council and Advisory Council to Support Grandparents Raising Grandchildren met for the first time here in Washington, DC. I chaired these meetings and came away from them more confident than ever about the potential they have for improving family caregivers' access to needed support. It was an inspiring two days, and I was so happy to see the level of interest and engagement from members of the public, key partners, and other stakeholders.
At ACL, we know that input from the people most affected by our programs is critical to ensuring our work is relevant and responsive to their needs. Public input will help shape the ongoing activities of the two advisory councils and inform their recommendations. Right now, ACL is seeking responses to a few key questions for each of the councils. We especially need family caregivers, grandparents, and older relatives who are raising children, and people who have been in those roles in the past, to share their experiences and insights. We also need our partners and other advocates to share their expertise.
We are collecting input online at ACL.gov. Click this link to provide input to the Supporting Grandparents Advisory Council or this link to provide input to the Family Caregiving Advisory Council. (These requests for information will be published in the Federal Register next week, as well.)
The information we collect will provide up-to-date information to the councils and enable them to better understand the challenges facing family caregivers, solicit recommendations for how we can better engage with family caregivers in meaningful ways, and identify the latest promising practices for supporting family caregivers and grandparents raising grandchildren.
I'm asking for your help in two ways. First, please provide your input! Second, please help spread the word so we can ensure we are considering the needs and experiences of the widest possible range of people.
Related links:
https://acl.gov/news-and-events/acl-blog/national-family-caregivers-month-learning-more-about-caregiver-needs