March: Nutrition Month

Older Adults
As we age, healthy eating can make a difference in our health, help to improve how we feel, and encourage a sense of well-being. Eating healthy has benefits that can help older adults:
Nutrients
•Obtain nutrients needed by the body such as potassium, calcium, vitamin D, vitamin B12, minerals, and fiber.
•Lose weight or maintain a healthy weight
•Reduce the risk of developing chronic diseases such as high blood pressure, diabetes, hypertension, and heart disease.If you have a chronic disease, eating well can help to manage the disease.
•Meet individual calorie and nutrition needs.
•Help to maintain energy levels.
Special Nutrition Concerns for Older Adults
Our daily eating habits change as our bodies get older. Make small adjustments to help you enjoy the foods and beverages you eat and drink.
•Add flavor to foods with spices and herbs instead of salt and look for low-sodium packaged foods.
•Add sliced fruits and vegetable to your meals and snacks. Look for pre-sliced fruits and vegetables on sale if slicing and chopping is a challenge.
•Ask your doctor to suggest other options if the medications you take affect your appetite or change your desire to eat.
•Drink 3 cups of fat-free or low-fat milk throughout the day. If you cannot tolerate milk try small amounts of yogurt, butter milk, hard cheese or lactose-free foods. Drink water instead of sugary drinks.
•Consume foods fortified with vitamin B12, such as fortified cereals.
Focus on maintaining a healthy body weight. Being physically active can help you stay strong and independent as you grow older. If you are overweight or obese, weight loss can improve your quality of life and reduce the risk of disease and disability.
•Adults at any age need at least 2 ½ hours or 150 minutes of moderate-intensity physical activity each week. Being active at least 3 days a week is a good goal.
•Find an activity that is appropriate for your fitness level. If you are not active, start by walking or riding a stationary bike. Strive for at least 10 minutes of exercise at a time and be as active as possible.
•Include activities that improve balance and reduce your risk of falling such as lifting small weights. Add strength building activities at least 2 times per week.
•Being active will make it easier to enjoy other activities such as shopping, playing a sport, or gardening.
•If you are not sure about your level of fitness, check with your doctor before starting an intense exercise program or vigorous physical activity.
- See more at:
http://www.choosemyplate.gov/older-adults
___________________________________________________________________________________________________________________
Meet Anna Mae : Peace Meal Home Delivered Meal Recipient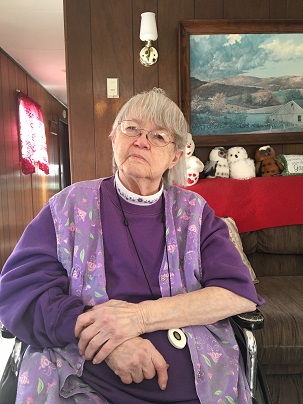 Anna Mae is a local senior who appreciates the Home Delivered Meal program through (Sarah Bush) Peace Meal. She stated that she has no dietary restrictions, but the meals keep her eating healthy and full. The portions are perfect for what she likes for lunch. Anna Mae stated that in the last year she has noticed the quality and taste of the food has really improved. She stated "The variety is wonderful, it's a different meal each day of the week".
Anna Mae lives on her own, but has local family and a wonderful helper who help her with dinner. We discussed the current budget crisis in Illinois and how we hope that does not affect the Peace Meal Program. Anna Mae said, living in a small town she has people that would help her if something did happen to the program. However she worries, because she knows there are a lot of seniors out there who get the meals and they don't have any other assistance or ways to get food. "Many seniors rely on the meals, and I don't like to think about not having them" stated Anna Mae.
Anna Mae also stated that she enjoys when Kay comes to bring her meal, and it is a time she looks forward to each day.
Lincoln Towers Congregate Meal Site Visit:
Lincoln Towers in Bloomington, IL has a small group that meets for their meal in the dining room. This site also has 9 meals currently that they deliver to the door of other seniors who live at the Independent Living facility. I got the opportunity to meet with Carolyn, Lynn and Helen who eat in the dining room. All 3 ladies stated that the meals have really improved over the last few years and that the variety is great. They receive a calendar that gives them the meal for each day of the month.
All three really enjoy the fried chicken and meatloaf. They also stated that typically the meal is big enough that they have half for lunch and save the other half for dinner. That just leaves them with breakfast to make on their own. Some recipients say they add a little salt or ketchup to their food, other than that the food is said to taste good. Meatloaf was the main course the day I met with these ladies, and it looked very appetizing and smelled great. They had meatloaf, mashed potatoes, green beans, whole grain wheat and Cake with pineapple in it.
By: Jordan - Administrative Resource Specialist
___________________________________________________________________________________________________________________
Additional Nutrition Articles
20 Ways to Enjoy More Fruits and Vegetables
Eating Right, Tips For Older Adults
Helpful Nutrition Links
For National Nutrition Month 2016, Academy of Nutrition and Dietetics Encourages Everyone to 'Savor the Flavor of Eating Right'
National Institute on Aging: What's on your plate
4 Types of Foods to Help Boost Your Memory
Small Changes, Sustainable Results