April: Mental Health Awareness
This year, approximately one in five American adults -- our friends, colleagues, and loved ones -- will experience a diagnosable mental health condition like depression, anxiety, bipolar disorder, schizophrenia, or post-traumatic stress, and many others will be troubled by significant emotional and psychological distress, especially in times of difficulty. For most of these people, treatment can be effective and recovery is possible. Yet today, millions of Americans still do not receive the care they need. - Barack Obama
Spotlight on Geriatric Counseling with Ashley, Geriatric Counselor at PATH Inc.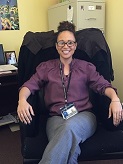 15-20 percent of older adults in the United States have experienced depression (Geriatric Mental Health Foundation, 2008). Approximately 11 percent of older adults have anxiety disorders (AOA, 2001). Ashley is a Geriatric Counselor for PATH Inc. in Bloomington, IL. Ashley stated that Community Social workers (ex: hospital social workers, elder abuse caseworkers) are the most common referral source. The second most common referral source is a family member of a senior.
Currently the most common mental health issues that Ashley sees are depression and anxiety. There is a national evidence based treatment program called PEARLS that Ashley uses with some of the seniors she meets. The program is short term, usually six to eight session, using problem solving treatment which includes setting goals and planning activities. During each session the senior self-reports goals as well as completes a depression questionnaire which allows both the senior and Ashley to see the progress the senior is making.
Another aspect of the counseling program that Ashley facilitates is traditional counseling. This involves the senior speaking and Ashley providing ideas, feedback and referrals when necessary. Ashley stated that she typically suggests social activities such as going to a senior center or volunteering. Ashley reported that senior support groups may be beneficial and that the community overall could assist by having more assistance for seniors with mental illnesses. Ashley reported that most of the people she sees are diagnosed with behavioral health issues and are being treated with medication.
For those seniors that may suddenly need assistance and do not have someone to contact, Ashley stated that calling 211 is the best option. Callers can talk to a trained volunteer. Seniors comprise only 12 percent of the U.S. population, people age 65 and older accounted for 16 percent of suicide deaths in 2004. 14.3 of every 100,000 people age 65 and older died by suicide in 2004, higher than the rate of about 11 per 100,000 in the general population (https://www.agingcare.com/Articles/Suicide-and-the-Elderly-125788.htm). Although Ashley does not often encounter suicidal seniors, she utilizes Center for Human Services for additional specialized support when needed.
By: Jordan – Administrative Resource Specialist
Older Adults: Anxiety, Depression and Suicide
Mental disorders, such as anxiety and depression, adversely affect one's physical health and ability to function, especially in older adulthood. For example, untreated depression in an older person with heart disease can negatively affect the outcome of the heart disease (APA, 2005). Conversely, older adults with medical conditions such as heart disease have higher rates of depression than those who are medically well.
15-20 percent of older adults in the United States have experienced depression (Geriatric Mental Health Foundation, 2008). Approximately 11 percent of older adults have anxiety disorders (AOA, 2001). Even mild depression lowers immunity and may compromise a person's ability to fight infections and cancers (APA, 2005).
Depression is a major risk factor for suicide. In 2006, 14.22 of every 100,000 people age 65 and over died by suicide, higher than the rate of 11.16 per 100,000 in the general population. Non-Hispanic white men age 85 and over are at the greatest risk for suicide, with a rate of 49.8 suicide deaths per 100,000 (CDC, 2006).
Tragically, many of these suicides may have been prevented, as many older adults who die by suicide reached out for help; 20 percent see a doctor the day they die, 40 percent the week they die, and 70 percent the month they die. Yet depression is frequently missed by physicians because older adults are more likely to seek treatment for other physical ailments than they are to seek treatment for depression (NAMI, 2009).
For some older adults, the development of a disabling illness, loss of a spouse or loved one, retirement, moving out of the family home or other stressful event may bring about the onset of a depressive episode (NAMI, 2009).
Symptoms of depression and anxiety in older Americans are often overlooked and untreated because they can coincide with other late life problems (APA, 2005).
Psychologists use psychological interventions, including various psychotherapies and supportive counseling, to treat mental health disorders and help older adults cope with late life stressors. These interventions have been shown to be effective either alone or in combination with psychiatric medications (APA, 2005). Recent research has demonstrated that psychotherapy can be effective for people diagnosed with late-life depression who are at high risk for poor response to antidepressant medication (Areán, Raue, Mackin et al., 2010).
___________________________________________________________________________________________________________________
For MENTAL HEALTH FACTS IN AMERICA click HERE
Click on the mental health issues below to see the fact sheet for each type of mental health issue.