Illinois Aging Network Alert
A periodic report on the impact of the state budget crisis on Illinois seniors and community programs on aging from
I4A- Illinois Association of Area Agencies on Aging
Prepared by: Southeastern Illinois Area Agency on Aging
Week of March 13, 2017
Nuke Nightmare Continues!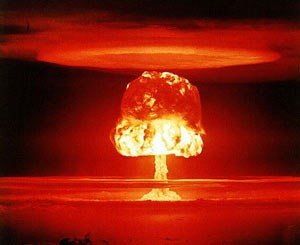 The devastation of budget warfare endures – "Without an appropriation or a court order, we will be unable to continue payments to nonprofits, social services and small businesses that are not covered," then-Illinois Comptroller Leslie Munger stated when the Legislature and Governor Rauner failed to agree on a budget in May 2015.
After waiting20 months and 2 weeks for a full budget to be enacted and implemented, disaster continues. Agencies continue to close their doors, and services are being sparsely funded. Older adults and persons with disabilities are still feeling the splinters of this explosion.
Southeastern Illinois is a very impoverished region. Many constituents have to decide between basic necessities such as food and medications in their cupboards, or electricity in their homes. They need and rely on nonprofit/social service agencies to assist them with any state-funded programs that meet their basic needs so they can live with dignity in their homes.
Impacts still looming without a budget!
Reduced hours for remaining SWAN (Domestic Violence) staff

Reduced hours for remaining Ombudsman agency staff

NO (Domestic Violence/OMB) prospective planning due to insufficient funds

Reduced or unavailable funding for services by community agencies

Inability to donate for services by most of the older persons who are served
Illinois Needs a Rocket Reboot!
The time is now before any further destructive decreases in services or closures occur. Please act to thrust Illinois into prosperity. We owe those who have devoted themselves to Illinois all of their lives a state made great again!
Please contact Joy Paeth, President (618-222-2561) or Jonathan Lavin, Legislative Chair (708-383-0258) with questions.