I4A Alert for December 2017
Illinois Aging Network Alert
A report of the impact of the state budget crisis on Illinois Seniors and Community Programs on Aging, from I4A - Illinois Association of Area Agencies on Aging (prepared by the Western Illinois Area Agency on Aging)
Contact: Jon Lavin 708-383-0258 (Vice Chair), Tracy Barczewski 618-532-1853 (I4A President)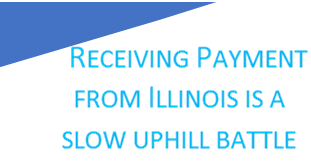 Our November alert stated, "Illinois' financial challenge remains the Aging Network's major threat." This is no longer just a threat!
Illinois has placed our agencies in financial jeopardy. We cannot continue to provide services when there is no time line for payment! Yet we are expected to continue to subsidize the state of Illinois by using our lines of credit, fund raising, furloughing our employees, not replacing employees when they leave etc.
Illinois owes the 13 Area Agencies on Aging and the many community agencies we fund the following:
$8.4 million for SFY 2017 which ended on June 30, 2017
$8.4 million for SFY 2018 (This includes the Home Delivered Meal funds that we were receiving on a regular basis through FY2017 as Illinois must pay these funds through a consent decree. We have not received any funding for October and November 2017.)
Every community in Illinois benefits from thriving local human service organizations! We are small businesses that collectively employ many people who pay taxes, spend money locally and work hard in assisting our communities to thrive. We need to be promptly paid for the services we provide! No other business would continue to provide a service without some payment timeline. We may run non-profits but like any business we expect payment for services provided. We must pay our employees, pay utility bills and other costs of doing business. The community agencies we fund for Nutrition services must pay for food, maintenance of service, new tires, and fuel for vehicles to deliver meals to homebound older adults. Transportation service providers must also pay employees, meet the costs of doing business, maintain vehicles, and pay for fuel. The same costs are borne by the senior centers we fund.
Area Agencies on Aging are also facing the threat of a shutdown of the federal government! This will stop the federal funds we receive that are helping us pay the costs of the all the services we and the community agencies we fund provide for older adults and their caregivers. Many of us will face difficulties staying open!


P.S. All of us wish you a wonderful holiday and safe, secure and happy 2018!